---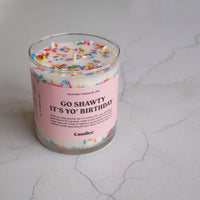 Could there be a more perfect birthday candle? No. No, there could not. We are so in love with this. Filled with the brightest sprinkles all the way through, and smelling EXACTLY like our funfetti birthday cakes, this candle is the ultimate gift for the birthday person.

This candle is made from natural soy wax and smells like birthday cake, bourbon and buttercream.
Hand poured in the USA.