---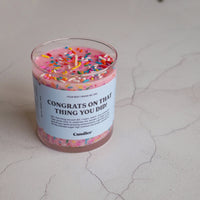 Celebrate that person who most needs celebrating right now with this AMAZING candle. Filled with bright sprinkles all the way through, with the most amazing smell, and a beautiful label, this candle is more than a candle, it's a proper, proper gift. 
This candle is made from natural soy wax and smells like strawberry jam, vanilla cake and passionfruit.
Hand poured in the USA.