---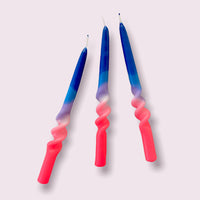 Set of three lovingly hand-dyed, hand-turned stick candles in neon look. The colours remain the same, the pattern gradients vary with each candle and make them a special one-of-a-kind.
Packed in a high quality white cardboard box with embossed writing in gold
100% vegan
Due to the twisted shape, you can never exclude the possibility that these candles drip.
Made in Bavaria/Germany