---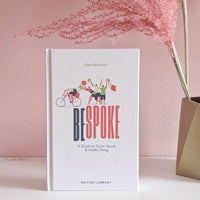 Some sports lend themselves to their own language: cycling is one of them.
With its rich history and culture, and its professional roots across the continent and beyond, cycling has developed a terminology that goes well beyond borders, producing a lexicon all of its own.
This book guides the reader through a land where the road to hell is paved not with good intentions, but with cobbles. This is a place where all the world is a stage, unless you are a one-day specialist. Where its inhabitants come with a litany of arresting nicknames - Badgers, Cannibals, Eagles, Pirates -each with a wonderful story of their own.
Insightful and irreverent, Bespoke is the book for anyone who wants to be able to speak cycling.