---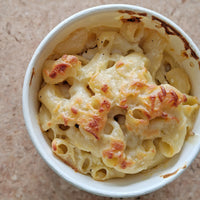 The most indulgent macaroni cheese you'll ever eat. 
Made with Cheddar, Monterey Jack and Parmesan cheeses, this is an amazing meal for one, or share it as a side dish.
To cook, defrost, then either bake in an preheated oven at 180c for 25-35mins or microwave on full power for 2mins, stir and microwave for a further minute. 
You can cook this from frozen in the oven, but it takes 45-55mins. 
All cheese are free from rennet, so you can be sure these are vegetarian. 
Allergens : Gluten, Milk, Mustard, Sulphites (in the mustard)